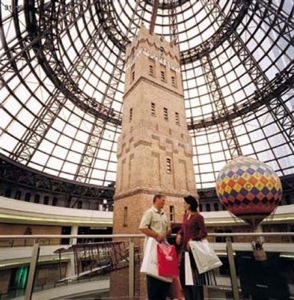 Shop Till You Drop
Melbourne also has some of the best shopping in Australia.  From two dollar shops to the finest fashions and arts, Melbourne has it all.  Here are some good places to start:
Bourke St Mall:  Here you will find, next to each other, the two big Department Stores - Myer and David Jones.  Clothes, cosmetics, electrical goods, books, CD's, DVD's .. you get the idea.  Something for everyone.

Top of Collins St:  From Spring Street to Swanston St along Collins Street is what is known as the Paris end of town.  This is where all the super chic brands are.

QV & Melbourne Central:  Two stylish malls of retailers - and food outlets too.  A great thing to do on a rainy day is shop the malls!

Chadstone:  If you like the huge American Style shopping malls, a trip to Chaddie as it is affectionately known, is for you.  It is a 20 minute drive from the city and there is a free shuttle bus that you can book to take you there and bring you back.  Tourists can also get a Citizen's Passport that can give you up to 30% off throughout the centre.

Queen Victoria Market: Fresh fish, meat, fruits & vegetables, cheeses, cold meats, breads, pies, cakes, are not the only attractions at Victoria market, but I do think the fresh food market is a great way to feel the culture of any city and our Victoria Market is no exception.  But there are also clothing stalls, bric-a-brac, cheap CD's & DVD's.  This is a MUST VISIT location in melbourne.  Open Tuesdays, Thursdays, Fridays & Saturdays.

Outside Melbourne: Just a short tram ride away are other famous shopping streets. Get on a tram and go to trendy CHAPEL ST, Sth Yarra; bargain BRIDGE RD, Richmond; bohemian BRUNSWICK ST Fitzroy; ritzy TOORAK RD, Toorak. All these destinations are only 15 minutes from town and will give you a feel for our culture outside the CBD.