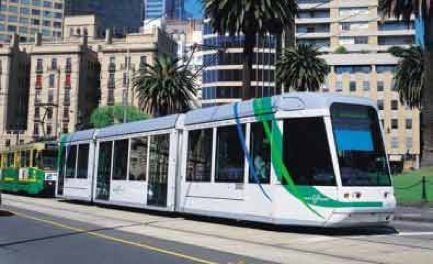 MYKI Travel Card:  Our public transport system offers one swipe card for trams, trains and buses.  You can buy a MYKI at any 711 as well as many other places.    Check all the info on the Public Transport Victoria site here:  https://www.ptv.vic.gov.au/tickets/myki
TRAMS:  For moving around town and the inner suburbs, Melbourne Trams are fast, reliable, inexpensive, and fun!!  All trams inside the CBD are totally FREE!!!  Just hop on and off as you please!  The CITY CIRCLE TRAM is a free tourist service that runs around the City perimeter.  It runs every day between 10am & 9pm.  For all the info click here.  Our tram system can take you just about anywhere within 10kms of town and even further.  To get to Brunswick St., St.Kilda, Toorak & Sth.Yarra, Richmond and other great inner city areas, you can check out all the tram routes by clicking here.
TRAINS:  Your MYKI ticket works on all trains.  Use the trains if you are going to Caulfield or Flemington Race Course.  Also the city loop train has many stops around town.  All on the same ticket!  You can get all the train info here:  https://www.ptv.vic.gov.au/
BUSES:  There are a load of bus routes you can also use with a MYKI.  You can see all the routes https://www.ptv.vic.gov.au/
TAXIS:  A taxi from one end of town to the other will cost around $15.  So if it's raining, or your feet are sore, or you can't walk any distance, taxis are the way to go.  You can phone a taxi on PH: 131008.  If you have a wheelchair, you can ask for a taxi that will accommodate it when you make a phone booking.  UBER - up to you.  Support our taxis if you can.
DRIVING:  If you want to get a hire car and drive around town that is also a great way to get around.  Check info on road rules:  https://www.vicroads.vic.gov.au/safety-and-road-rules.   Watch out for the famous Melbourne Hook Turn in the CDB.  I think it is the only city in the world where this type of turn is in use.  https://www.vicroads.vic.gov.au/safety-and-road-rules/road-rules/a-to-z-of-road-rules/turning
BICYCLES:  Bike riding in Melbourne is very popular, but bikes are not as numerous as in China, Amsterdam, Taiwan and cities where the bicylce is a big part of the culture, so riding a bike around Melbourne is easy & fun.  You need to wear a helmet by law.  There is a great share bike scheme:  https://www.melbournebikeshare.com.au/.  You can also rent a bike at Federation Square.  Here is the RENTABIKE link.
WALKING:  Melbourne City is laid out on a grid and it is VERY EASY to walk around town.  I live downtown so I walk everywhere and use the trams a lot.  I have put together a section on WALKING TOURS HERE.
Getting around Melbourne is easy & cheap.