Melbourne is without a doubt the food capital of Australia. No other city has a downtown area that is so full of excellent restaurants and that has so many cuisine styles within every one's budget. You can eat superb food in Melbourne without spending a fortune, but if you do decide to lash out and do some fine dining, Melbourne restaurants will amaze your taste buds.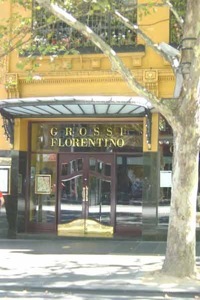 Here are my Top 10 ....
GROSSI FLORENTINO:  I love Italian food and Guy Grossi cooks it with passion, as well as anyone in the world.  The reason Florentino gets my number one pick, is that it offers not one, but three great dining options, all done in style.  The upstairs dining room is, in my opinion, the best dining room in Melbourne.  It oozes luxury and the artwork is a must see.  The food, service and wine list first class.  It is the most expensive of the three options, but if you want to taste the best Italian food in Melbourne, and be pampered in luxury,  this is for you.  $.  The Grill downstairs is a bustling Italian Bistro.  A superb Spaghetti Marinara (seafood), great steaks, oysters, soups, desserts - it's all there at a reasonable price. $.  The Cellar Bar is the third option.  I went in the other day and got a great bowl of pasta and a glass of wine for under $20.  All from the famous Guy Grossi kitchen.  And I love to go to the Cellar Bar late at night to have a coffee, a grappa and a Florentine biscuit. $  80 Bourke St. Phone bookings on 96621811. Grossi Florentino Web Site

EZARD AT ADELPHI: I have been a fan of Teage Ezard's food for over 15 years.  I discovered his cooking when he was at Guernica in Brunswick St Fitzroy, and have followed him ever since.  His unique mix of flavours is superb.  I have NEVER had a dish at Ezard that I wasn't amazed by.  This guy is GOOD!!!!  He calls his food Australian freestyle cooking.  It has elements of European, Asian and Aussie styles, often rolled into one plate.  Yes, it is another fine dining option, and it does cost a bit, but this is an amazing experience.  Treat yourself. $.  187 Flinders Lane. Phone bookings on 96396811.  Ezard at Adelphi Web Site

TEA HOUSE:  Chinatown is packed with great Asian dining experiences.  But Tea House stands out for me for Chinese food.  It is in the middle price range, but I think you get food every bit as good as the very top price range in China Town.  Specialties include an amazing lobster omelette, stuffed garfish, excellent peking duck, pot sticker dumplings, cantonese beef ... all yum.   http://orientalteahouse.com.au/restaurants/little-collins

MOVIDA:  In Hosier Lane off Flinders St near Federation Square, there is a graffiti shrine in Melbourne.  But that is not all that is there.  You will find Movida for Spanish food that is superb.  While the main courses, like fresh fish or Paella are always good, I think the key to a great dining experience at Movida is to order a LOT of the appetizers.  The small plate of cold cuts, with the best salami and Iberian ham you can buy, little marinated lamb chops, superb anchovies and more, more more!.  I can't tell you my favorites, as the menu changes, so there is always a surprise, but each mouthful of a Movida delicacy is an explosion in your mouth.  They also have a great range of sherries, if you want to have the full Spnaish experience.  And before or after you eat take the time to look at the graffiti walls in the lane.       $.  1 Hosier Lane.  Phone bookings 96633038. Movida Web Site Link.

THE ITALIAN WAITERS CLUB (Waiters Restaurant):  In a lane just off Bourke St up near Spring St is a little Italian restaurant that is super good and super cheap!  For as long as I can remember the top end of Bourke St has been little Italy.  And in the 1950's and 1960s this is where the Italian waiters from all the restaurants would gather after they had finished work for a glass of wine and some simple but great Italian food.  Expect laminex tables, friendly staff but not stuffy, noise and GREAT Italian pasta, soups and main courses.  Big serves.  Low price.  Great food.  This place is busy so you may have to wait for  table, but it is great fun and worth it.  $.  20 Meyers Place.  Phone bookings 96501508.  No web site.

TAXI DINING ROOM:  Great location.  Superb food.  Style.  Huge wine list.  Waiters who know what they are talking about.  It all adds up to a unique Melbourne dining experience.  Overlooking Flinders Street Station, with views down St Kilda Rd, right in Federation square, Taxi Dining Room is the best tourist location to a sit down and enjoy bustling Melbourne.  But it's not all about the views, the contemporary Australian cuisine is special.  You can get superb sushi and sashimi, wagyu beef,  stuffed zucchini flowers, and every dish is a work of art when it hits your table.  Maybe Taxi should have been higher up the listing, but I know a few people who think that it is a bit dainty.  But I love it, and I always take friends from overseas there.  $ Federation Square.  Phone Bookings on 96548808 Taxi Dining Room Web Site

VUE DU MONDE:  You're in higher priced territory at Vue Du Monde, but there is also the lower priced Bistro Vue at the same location if you're watching your pennies, but a trip to Vue Du Monde is an exciting food experience.  Some people say it is French food but I think it is French/European with an Aussie twist.  Shannon Bennett, the renowned executive chef calls it modern French fine dining so I guess that is what it is.  There are angled mirrors over the kitchen so you can watch the food being prepared - it is more like watching artists than chefs!  Every plate that leaves the kitchen looks and tastes superb.  Foie Gras, Truffles, Caviar - they're all on the menu here.  A superb wine list.  Great waiters.  Beautiful room.  Go on - splash out.  It's worth spending those last few pennies here!   $ 430 Little Collins St.  Phone bookings on 96913888.  Vue Du Monde Web Site Link.

SUPPER INN:  Melbourne's famous restaurateurs - Mietta & Tony Knox - used to eat here after they had closed, as Supper Inn is open to 2.30 am, and after midnight it is always packed.  No bookings so you might have to queue, but this is the best lower priced Cantonese Food in town.  Plastic chopsticks, vinyl chairs - it's a no frills affair, but it is always full.  The chili quail is superb.  Roast suckling pig is yum, exceptional congee, great hot pots and lots of unusual specialities if you want to try something different - you won't be disappointed.  One of my mates also says it's the best fried rice in town and I tend to agree.  15 Celestial Avenue (Off Little Bourke St in Chinatown).   $ PH 96634759.  No web link.
But this is only scratching the surface.  There are so many other options in and around town.  Lygon St Carlton is home to the biggest range of Italian Pizza & Pasta restaurants.  St Kilda's Acland St has cakes and schnitzels to die for.  Lonsdale Street has a Greek precinct for authentic Grecian specialities. Brunswick St Fitzroy, Chapel St Sth Yarra, Victoria St Richmond all have great strips of restaurant after restaurant.